Champion Trees
Introduction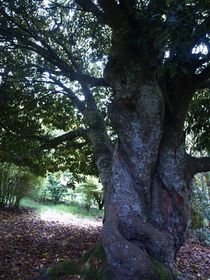 Following a visit from a representative of the Tree Register, Caerhays officially now has over 75 champion trees in the garden this is believed to be the highest number in any Cornish garden and one of the highest in the UK, a great accolade for Caerhays.
A Champion Tree is one which has been measured by a representative of the Tree Register and included on the annual register as being taller or larger than all other trees of the same genusspecies in the British Isles.
The Tree Register organises a volunteer network of over 50 tree measurers who update historical records and discover over 2,000 new trees worthy of inclusion each year.
The records held are unique in as much as they represent the only comprehensive source of information on the size and location of trees in Britain and Ireland.
With varieties ranging from Acer to Trochodendron and of course the Magnolias, Rhododendrons and Quercus for which Caerhays are famous, the registered champions cover a wide range.
The Tree Register and what makes a Champion Tree
Caerhays Estate Champion Tree List – Page 1
Caerhays Estate Champion Tree List – Page 2
Caerhays Estate Champion Tree List – Page 3
Download – Caerhays Champion Trees – Britain and Ireland
Download – Caerhays Champion Trees – Cornwall
Details of the Tree Register and the work it does can be found on the www.treeregister.org – opens in new window