Conducted tours around the gardens at Caerhays will be led by:-
Head Gardener and Estate Manager – Jaimie Parsons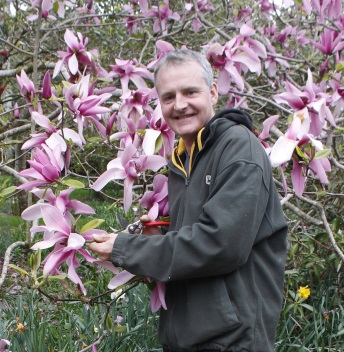 Jaimie is only the fourth head gardener at Caerhays since 1896. Although Jaimie's family had been associated with the Caerhays Estate for many years, Jaimie only started work here in 1994. He was trained at Cannington College, Bridgwater and became head gardener in 1996 following the retirement of his predecessor, Philip Tregunna, after over 40 years in the gardens. He also became Estate Manager in 2006.
Jaimie has instigated the greatest expansion of the gardens since the first decades of the 20th century with 30 acres of gardens planted out since 2003. He has also catalogued and progressed the establishment of the Plant Heritage National Collection of Magnolias at Caerhays.
Jaimie continues the long tradition of plant breeding at Caerhays and has already raised and named a number of his own rhododendron and magnolia hybrids. This was recognised by the Royal Horticultural Society when, in 2009, he was awarded the A.J. Waley medal for work in the cultivation of Rhododendrons.
Deputy Head Gardener – Michael Levett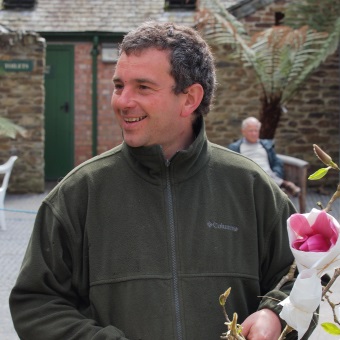 Michael's family have a long association with gardening and the Boconnoc Estate. Michael came to work at Caerhays in 2000 after training at Rosewarne Horticultural College.
Michael is responsible for all the plant labelling which you will see in the gardens and for recording the details of all new plantings each spring. He is a keen propagator and also manages the seed, cuttings, layering and other propagation work at Caerhays.
Caerhays was awarded a second national collection of Podocarpus in 2011 which Michael will be responsible for managing.
At several of the recent annual Cornwall Garden Society shows at Boconnoc and RHS Shows at Rosemoor exhibits staged by Michael and Jaimie have been awarded premier cups and prizes.
The enthusiasm and knowledge of these two (relatively) young guides will be readily apparent on your conducted tour of the gardens.