A flagship 'Community Fibre Partnership' between Cornwall's Burncoose Nurseries, Openreach, Cornwall Council and private funders is to blaze a trail for the rollout of full fibre broadband to remote and rural businesses across the UK.
The move comes after The Chancellor, Sajid Javiid, announced a £5billion rollout of full fibre, 5g and other giga-bit capable networks, at The Conservative Party conference [last week], to 20% of the hardest to reach parts of the country.
Burncoose connects to full fibre broadband - BT Openreach
The rollout will be made more possible thanks to some of the innovative engineering used at Burncoose Nurseries and Estate by Openreach to install full fibre broadband in its stunning location near Redruth, Cornwall, which is paving the way for other rural communities to get fibre-to-the-premises (FTTP).
Burncoose is the fourth biggest plant mail order business in the UK, winning 24 gold medals at Chelsea, with much of its recent growth driven by the introduction of online mail order.
Established in 1984 by Charles Williams, it began life by exhibiting and taking written orders at numerous flower shows throughout the UK. A pioneering move online 21 years ago, when Burncoose created its first website, transformed the business. Today over 80% of the business is online with 1.5 million visitors to the website each year, drawn to the extraordinary range of over 4,000 different varieties of ornamental trees, shrubs and herbaceous plants.
Despite slow broadband speeds due to its remote location, online orders grew by almost 46% per year in the last 10 years, with a surge in the last four years as the website expanded its content to give customers detailed and practical and pictorial advice on growing their plants.
But as office staff at Burncoose struggled with connections of 1.25 mbps, the process of expansion had become a nightmare.
Burncoose Nurseries had added over 40,000 photographs to its website in a decade. This exercise had been a time consuming and expensive challenge not experienced by competitors. Discerning gardeners like to make telephone contact with their suppliers to discuss their potential plant purchases but Burncoose's staff struggled to access the information online to answer enquiries because speeds were so much slower than that of their customers. This at times made staff feel that they came across as inept and unprofessional. Even tracking a parcel after dispatch was a slow and frustrating business.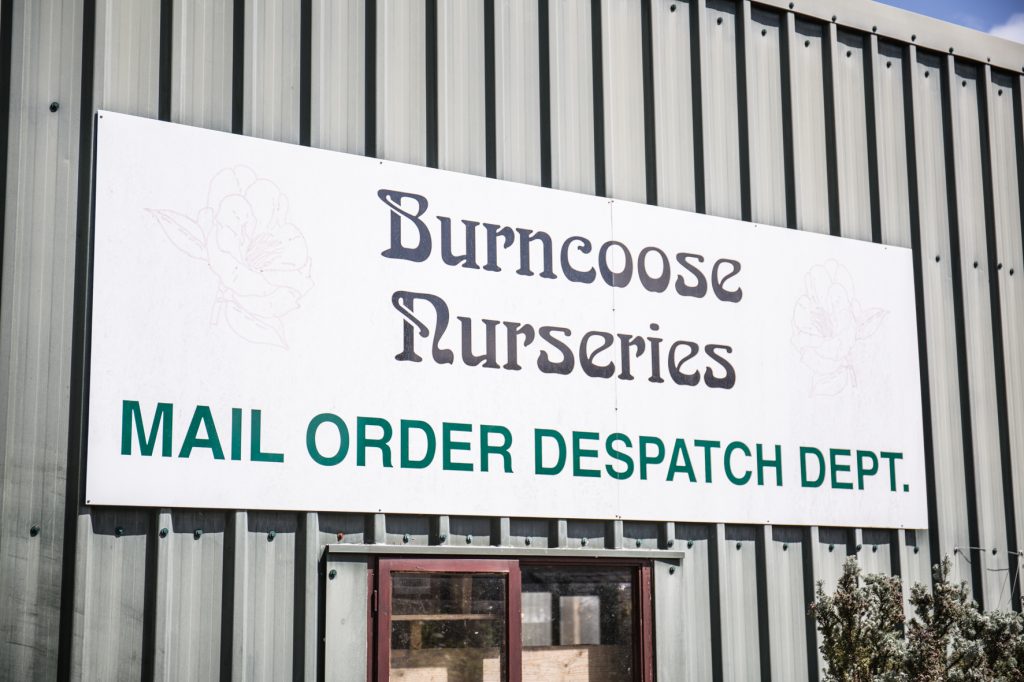 A fast broadband connection had become business critical for the business to continue to grow. So in April 2017 the community began discussions with Openreach to consider installation of fibre-to-the-premises (FTTP) or "full-fibre" technology onsite. Full-fibre broadband connections can deliver download speeds of up to 1 gigabit per second – enough bandwidth for a family of four to all stream ultra HD or 4k quality movies or TV simultaneously, without interruptions, waiting or buffering. With these speeds, downloading a typical HD film takes less time than it takes to make a cup of tea.
The funding was agreed through a combination of private funding, funding from Openreach and local grant scheme run by Cornwall Council. The design/contract negotiation period took six months then the build, which took eleven months, involved connecting and extending fibreoptic cables from Openreach's local node point to the Burncoose site. This wasn't without its problems as the cables needed to be installed on a main road involving road closures adding a three-month delay.
The initiative will benefit a "business cluster" beyond the nursery itself: Burncoose Nurseries is part of a micro-community which includes Burncoose House, a spectacular wedding and holiday venue completely reliant on online bookings; a building company, KPK Builders employing over 30 people, and several homes and businesses. There are around 70 people employed in businesses on the Burncoose Estate.
These businesses on the Estate are now reaping the benefits of full fibre. Horticultural enthusiasts can now find all the information they need online, meaning that the phones no longer need to be manned by plant specialists. The connection is resilient in inevitable winter storms and even the phone lines are clearer with no drop-outs or interference. KPK Builders has opened a new maintenance division and entrepreneur Ellie Bradshaw has just launched Wild Life Botanicals, a new range of low-alcohol, high end sparkling drinks from a converted barn on the Estate. And at Burncoose House, guests hiring the property for weddings, events or holidays now enjoy Georgian splendour with 21st century connectivity in the spectacular Cornish countryside. And the success of these businesses means more jobs for local people, which is great news for this part of Cornwall where wages are still well below the national average.
Charles Williams said, "Burncoose is delighted to help promote this long overdue improvement in rural broadband access to 10 separate private business addresses in our small business cluster.
We now have broadband speeds of 70Mbps and can deal with our existing customers, business rivals and new business on an equal footing to our competitors. We all see this as a hugely important step forward in enabling our businesses to prosper and grow in the countryside."
Based on the success of the Burncoose and the Cornwall initiative, Openreach announced [on Friday, October 4] the rollout of a full fibre broadband pilot to 13 more rural communities, with the senior team at Openreach, including Clive Selley, CEO, Openreach, visiting Burncoose to see how it had positively impacted the local community there.
Openreach have also created a video to tell the story of Burncoose and its broadband journey and a case study has been included in the Openreach shareholders report.
The Burncoose Estate may once have been at the heart of the industrial revolution in Cornwall, but it now finds itself at the forefront of the digital revolution with telecommunications infrastructure which will future proof connections for the businesses there for years to come.