We are thrilled to participate in The Great Gardens of Cornwall's Great Art Auction, a unique art exhibition that celebrates local talent and the joy of spring while raising much-needed funds for the Cornwall Community Foundation.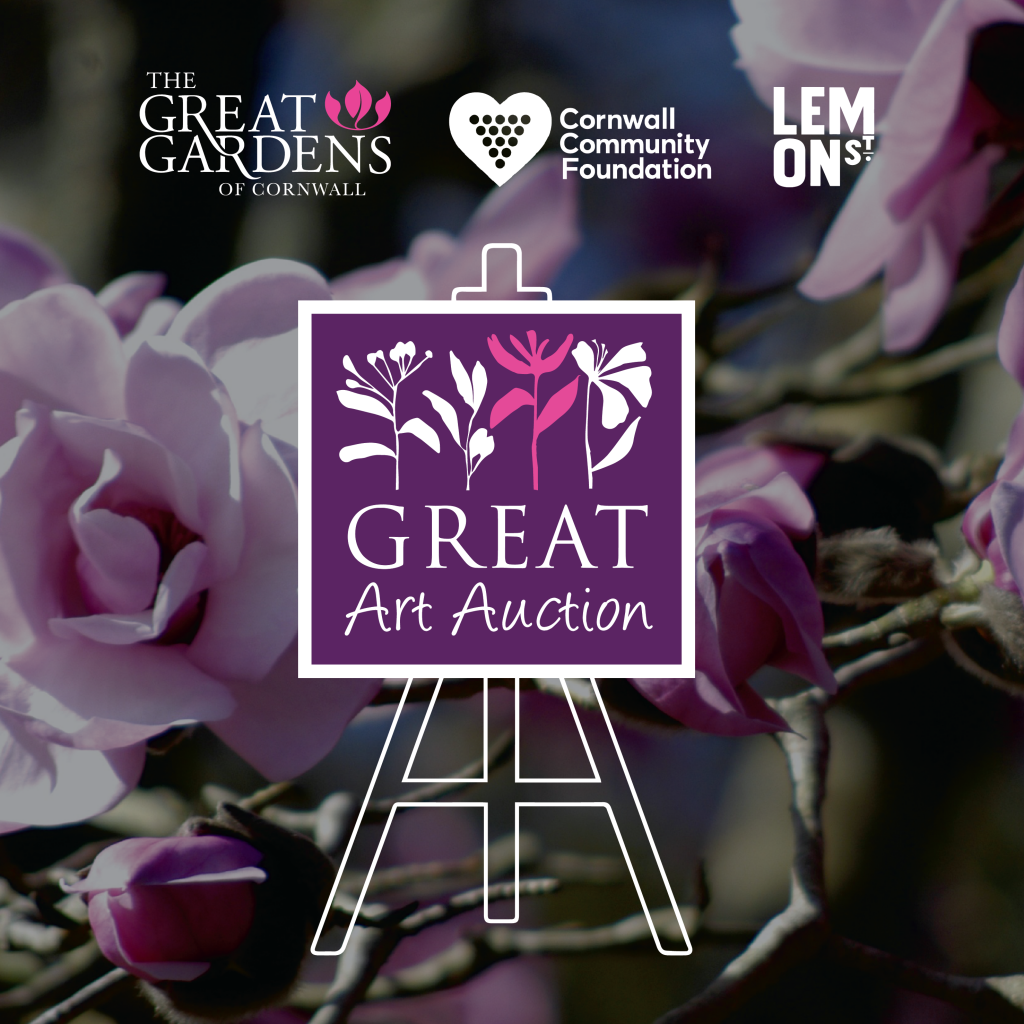 The Great Gardens of Cornwall (GG) is a group of 13 of the most historically and horticulturally important gardens in Cornwall. Each of the gardens provides visitors with a space to connect with nature, nurture their mental health and support their well-being. The Cornwall Community Foundation shares this vision by facilitating grassroots and community-led organizations across the county, helping to improve people's lives and cultivate strong, resilient communities.
Head to the Great Art Auction's webpage to learn more about the synergy of this inspiring collaborative project.
The Great Gardens Great Art Exhibition will run from June 13th to June 20th (closed Sunday, June 18th), with the much-anticipated auction taking place on June 20th. Save the Date so you don't miss out on this exhilarating opportunity to become the proud owner of a bespoke piece of Great Gardens-inspired artwork!
Exhibition:
9am – 5pm from June 13th to June 20th (closed Sunday June 18th).
Auction:
Doors will open for a drinks reception at 6:30 pm on Tuesday, June 20th, and the bidding will begin at 7:30 pm.
Our dear friend, Carol O'Toole, an exceptional painter and printmaker, is creating the Caerhays' inspired artwork for the project. Carol uses colour and light to inform and excite her landscape work and often incorporates various mixed media and techniques to articulate her vision. You can view examples of her impressive artwork here.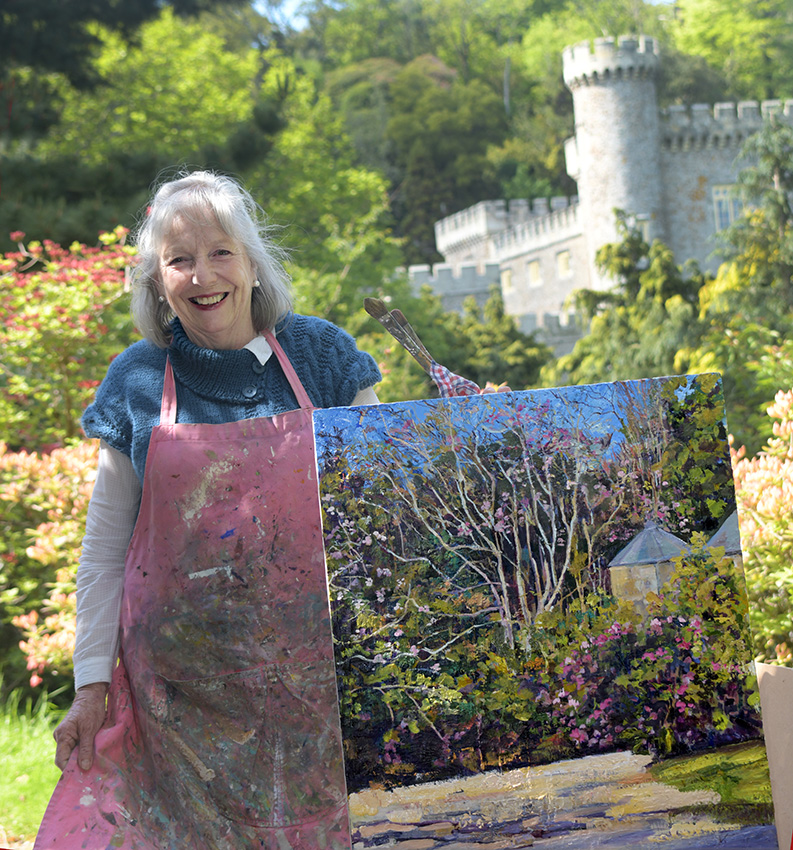 We are incredibly grateful to Carol for her generosity and support for this project and for representing the magic of Caerhays Gardens so alluringly in her piece, we can't wait to see it displayed in all its glory for everyone to enjoy (and hopefully bid for).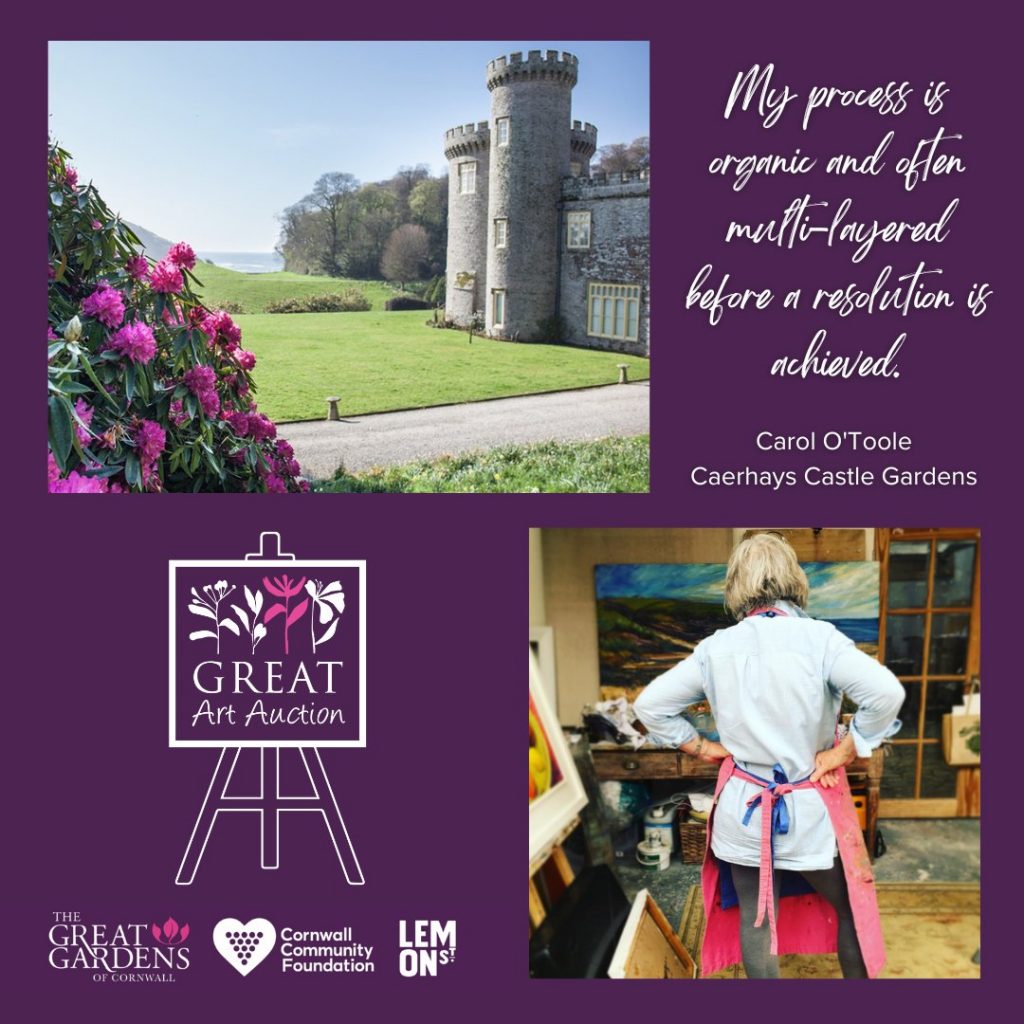 Discover more about Carol O'Toole and her sources of inspiration in this short interview below:
1) What motivated you to become an artist?
I draw or paint whatever is in my life and whatever is about me in that moment – whether it be events, places, objects, or emotional experiences. Sad or joyous, it is my instinct – a way of recording and sorting things out.
2) What mediums or formats do you like to use, and why?
Recording my life through drawing is the starting point, and a variety of media and means can be used to articulate the work – whether printmaking, collage, mixed media, drawing or painting in oil. My process is organic and often multi-layered before a resolution is achieved.
3) How have you changed or evolved as an artist?
There is an underlying search for structure and mood within my work which shows my love of drawing and interest in colour. Earlier landscape work showed an absorption with surface texture and employed heavy impasto, aiming to achieve a feeling of place and mood to reflect the very visceral nature of the weather, light and wildness of Cornwall; a desire to be within the landscape itself. Later work with landscape, still life and figure as motifs, has developed with a more particular narrative, objects and people, memories and events of personal significance.
4) What have you been inspired by in your Great Garden?
I have really loved the beauty and the constant challenge of different colours and moods each time I've visited. I would love to do my work in Autumn again as the tree structures are fascinating.