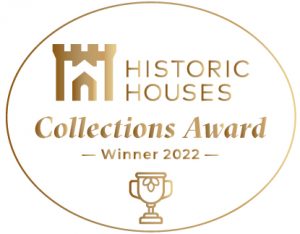 Caerhays Castle, in Cornwall, has won the inaugural Historic Houses Collections Award, sponsored by Dreweatts.
The award was introduced to honour the creators, owners, curators, researchers, and conservators who preserve, augment, restore and interpret the beautiful and significant objects on show inside historic houses up and down the country, enabling the public to understand and enjoy them and the stories that they tell.
In its inaugural year, the award attracted an overwhelming number of entrants, spanning the full range of historic house contents – from furniture to fabrics, timepieces to Titians. It was the remarkable mineral collection recently discovered at Caerhays Castle in Cornwall, however, that stood out to the judges.
The Williams Caerhays Mineral collection is the product of generations of collecting by the Williams family, predominantly in the Gwennap parish of Cornwall. They were well established as highly successful mining managers by the early 1700s, living at Burncoose House, and subsequently at Scorrier House. John Williams senior (1753-1841) and his son, John Williams junior (1777-1849), were largely responsible for creating the superb mineral collections at those two residences in the late eighteenth and early nineteenth centuries.
In 2008 Charles Williams, the current owner of Caerhays, met Courtenay Smale, a retired mining engineer and former President of the Royal Geological Society of Cornwall and the Royal Institution of Cornwall, with a view to re-establishing a mineral display in the empty cabinets. This was aimed at enhancing the visitor experience as part of the House Tour. The painstaking task of reinstating a display and cataloguing was onerous, in that the minerals were secreted throughout the castle's old kitchen, old vegetable room, wine cellar, smoking room, and slop room. They bore no identification labels or catalogue.
However, the Williams family ploughed on and are committed to continuing the already established practice of publicising the mineral collection through exhibitions, lectures, research with learned societies, and articles through such vehicles as international publications and academia.
Charles Williams, owner of Caerhays Castle, said: We are very proud of the mineral collection at Caerhays it is world class and completely unique, we would not have been able to achieve this without the help and guidance of the unbelievably knowledgeable Courtenay Smale. Probably 99% of the population have no idea what a mineral looks like, they have no idea it comes from a Cornish copper or tin mine, many of them have no idea of the history of Cornwall…so it sets the Williams family and the collection in context."
Courtenay Smale, author and curator, said: "I was first contacted by Charles Williams back in 2009, and it wasn't until we started to search throughout the castle that the minerals started to reappear. I spent a considerable amount of time identifying the specimens and cataloguing them."